Hello
We value your business and would like to thank you for giving our team of maintenance specialists the opportunity to serve in the past year. Our chats provide you with information that can help in making the right decisions on how to maintain your home and also allows us to connect with our valued customers. Give us a call or simply email us to discuss your log home maintenance needs.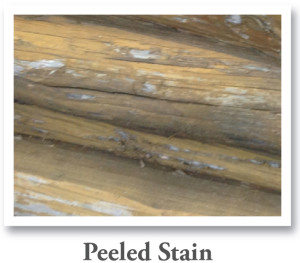 Spring Maintenance
It's spring again, the birds are chirping, the grass is growing and the leaves are turning green, buzz, Oh no! Not Again. Yes it is true, every year there is a battle between log home owners and carpenter bees. Typically you will start to see signs by the end of April or the beginning of May; however by the end of the month bees are in a frenzy, this is there mating season which typically lasts around three weeks. We have heard stories of bee vs. tennis racquet, bee vs. BB gun, shot gun and 22. While to some slight degree these methods may work (depending on your aim) there is no better method then treating each individual hole. If it has been a couple of years since your home has been stained we recommend a wash to remove surface dust, dirt and pollen, and with a wash we will treat the bee holes. A wash and fresh coat of stain is recommended every three to five years. Remember you don't want to wait until stain is peeling or turning black to apply a maintenance coat. In either of these scenarios we will treat the carpenter bee holes and help you try to keep the bees to a minimum.
If not kept in check, bees create unsightly holes and attract woodpeckers that love to eat larvae creating a mess to get to them. After treatment and repair of the bee holes specifically designed bee traps are recommended to attract the carpenter bee to pre-drilled holes. Since there is a lot of work to drill a new hole the carpenter bee will use any existing hole of the right diameter. Once in the trap you have eliminated the bee, at least one hole and the possibility of a woodpecker tearing up the wood on your home.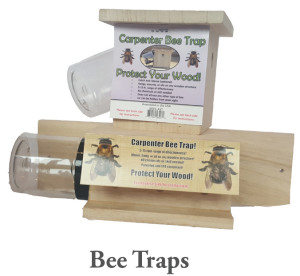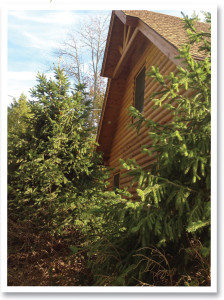 Maintenance Tips
Don't forget to inspect your log home because any minor concern caught early enough will save you money in the long run, as the saying goes "a stitch in time saves nine".
Plants or any landscaping material should not be in contact with the wood.
Allow 18" to 24" of air space between firewood stacks and the wood walls.
Look for gutters and downspouts full of debris or that may have leaks.
Are south facing walls fading?
Is the wood on dormers and touching the roof starting to turn black?
The appearance of (black) mold or mildew may be found especially on north walls.
Are checks (splits) in the wood starting to get dark or black.
Exposed horizontal beams or logs without roof coverage or caps will quickly deteriorate from water if not maintained regularly.
Although this is not an all inclusive list, taking the time to do an inspection on a regular basis will allow you to notice any slight differences in the color of stain application and wood avoiding a potential problem early.

Nation Wide
Media Blast – This past year we have traveled to (25) states serving hundreds of customers by providing basic and extensive maintenance services on their homes.
See what some customers have had to say about our professional maintenance teams and their work performance. We are delighted to have these teams working hard to provide you excellent service, and it is always our pleasure to be your log home maintenance service provider.

"Ken and Victor deserve to be commended for their work and efforts, but more for their care and concern, to have people that really care about you it is a rarity" – Wanda, VA.

"We would tell anyone considering having work done to their home that they would not regret using your company" – Arsane, LA.

"The workers were professional, trustworthy, neat, helpful and became like our family. We are so pleased with our home."

"Every time we are outside or approach the house, we just stop and marvel at how beautiful it looks and what a wonderful job Ethan did. We could not be more please with the result" – David, MD.

Log Rot Replacement – Log rot begins with moisture (water). At times, log rot can be difficult to detect, however looking for areas that are a little darker than normal may indicate the beginning stages. When a log has to much moisture content and is combined with air infiltration causing the logs to rot, the "good wood" within your home now becomes a target of continued deterioration. Keeping your home dry and preserved is key to guarding against these costly repairs. If you think your home may have log rot but aren't sure simply give us a call and we will be happy visit your home for an inspection and give an estimate on fixing any issues you may have.

Wash & Stain – An annual light wash removing the dirt, grim and surface mold of the home goes a long way in helping to prolong the exterior wood finish. A fresh coat of preservative is recommended every three to five years to keep your home protected.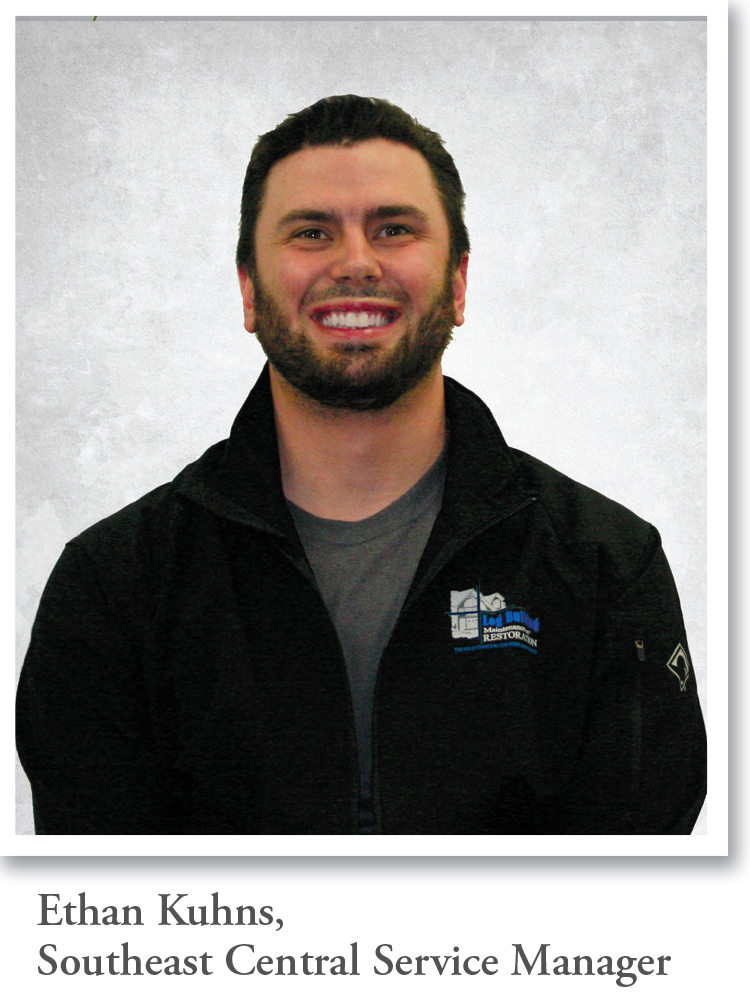 Announcement
We are excited to announce that a service center is now available in Winchester, VA. Although our services are provided throughout the continental United States we have found an increased interest within the south central eastern states and have decided to provide more of a local presence. Ethan Kuhns has recently moved to the Winchester, VA area from central PA, and his focus will be servicing customers within the following states MD, WV, VA, TN, NC, SC.

Ethan's history is deeply rooted in working with natures gift of wood, he has generations of forestry, lumbermen and log home manufacturing owners, and log home building industry professionals at his fingertips. He has studied Business Entrepreneurship at Penn State University, PA and proceeded to work in the log home industry focusing on assuring customer satisfaction and project management to log home customers. In his spare time Ethan, loves to spend time with his girlfriend and is an avid hunter. His years of knowledge gathered is a great asset and will allow us to continue the growth of our organization.

We are pleased that Ethan will represent Log Building Maintenance and Restoration in a more prominent way as the South-Central Service Manager.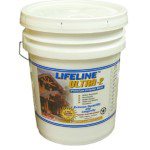 Product Spotlight
Lifeline Ultra-2 - the two-coat application helps to ensure consistent color development on your walls. From the day that you apply it to the many years of durability that you get from it, this wood stain will distinguish your home.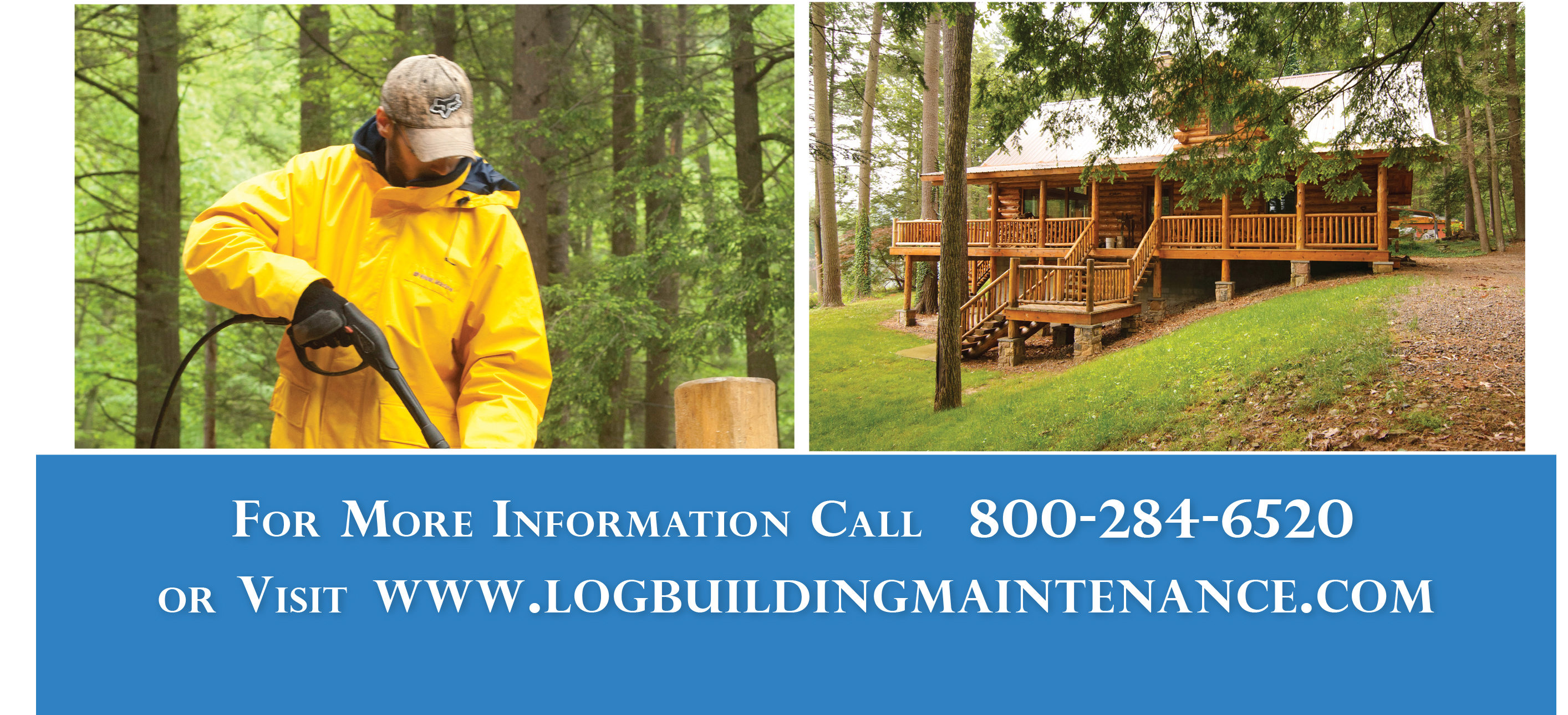 Service Spotlight
Residential Roof Cleaning Services - Our roof cleaning service helps to remove dirt, algae, moss and other types of build-up. If you see that your home is showing signs of these unsightly streaks we would be happy to help. We can apply an environmentally safe shingle cleaner to your roof to clean and lengthen the life of your shingles.