Log Home Customer Testimonials
SEE WHAT OTHERS ARE SAYING
"We couldn't be more pleased with the work. The house looks great and we can really tell the difference with the gaps sealed. The exterior looks much better and the crew replaced several bad sections – they fit very nicely. I know its hard to match those old pieces. They cleaned up very well, even the windows!

Ken & Vincent were great, hard working, courteous and very professional!"
- Bob Holmes, PA
"Dave, Josh, & Collin were nothing but professional, courteous, and men of their word. Despite the tough job they had in front of them, they pulled together to restore and create a work of art. We really appreciated how clean they kept their work area, this is a trait that reflects on a true craftsman. We are very pleased with our log cabin and look forward to having Dave and his crew visiting us for our next project. Thank you once again."
- Mark Espinoza, TX
"David, Tom and the entire crew over delivered on the job. They did everything as promised and more. Showed up when they said they would and did what they said they'd do. I was a bit leery with them being out of state (I'm in NC) but they gladly accommodated all my requests to make me feel totally comfortable with using them. I will continue to use them for my annual maintenance and highly recommend them to anyone needing work on their log home…"
- Terry Ward, NC
"Your quality of work and what was expected was excellent. The team that prepped and stain my home was perfect. Would always ask for Tom and Derrick. Will be in touch in five years. Thank you."
- Charles Hoover, PA
"Thank you for a Great job, so impressed with the work and the cleanup each day. Tom and his nephew were Very good and made us know we could fully trust them even when we were not at home."
- Nevin & Sharon Rentzel, PA
"The staining of my home was from start to finish a superb job. The professionalism, attention to detail and completed work make my 30-year-old home look like new. I highly recommend Log Building Maintenance to anyone looking to have any work done on their home. There is no doubt I will have them work on my home in the future."
- Mark Zaslavsky, PA
"It is very rare to receive a combination of prompt service, high quality work, and reasonable cost, but I got all three in my renewal project. The technicians were especially careful of the grounds outside and with respectful attention to the furniture inside. Requests for additional, unplanned work were met with the same prompt, quality and reasonable cost performance as the planned work. I heartily recommend them without hesitation!"
- Rich Bowles, PA
"Frank and I feel so fortunate that we found your company to do the exterior of our log home. Mitzi and Angel started the ball rolling and were great about answering our questions. Tom came to check things out – such a knowledgeable and professional person. We appreciated how expeditiously he got our bids to us and again, answered lots of questions and concerns. Phil was a great guy – very professional and meticulous! We can't thank him and his coworkers enough for their hard work and quality of work. And lastly, we absolutely love our log home!! Your company transformed our 38-year-old home to a beautiful and very special one. We love it!! Many, many thanks from the Faloticos!"
- Frank & Patti Falotico, NJ
"I have no complaints, they were very nice guys, worked constantly, showed up on time and cleaned up each night before they left. I have recommended your company to a few people and will continue to do so!"
- Adrienne Ottenbreit, NJ
"Just want to say that it was a pleasure getting to know Josh and Jill. The work that they do is exceptional. They are very pleasant to work with and I would absolutely love to have them back in the future."
- Leo Vecchiarello, NH
"Loved the father/son team who completed our staining project. They patiently answered all of my questions as I was a novice to the process of staining a log home!"
- Kathy Dunkle, PA
"The crew that worked on our home was very knowledgeable, professional and cordial. We explained the work that we wanted done and were very impressed and satisfied with the outcome."
- Frances & Ed Holtzman, PA
"When workers speak highly of their bosses, do not want to disappoint their bosses, and are concerned about pleasing the customer, I believe that is enough said! I would personally like to meet the owners some day and shake their hand because I believe anyone who operates a company now days in a manner that does what they say, for what they say, with integrity is rare. Someone made a good decision to hire Andy in my opinion…somebody with smarts!"
- John Seitz, PA
"The team was very experienced and took pride in their work. I was very happy with the log restoration project and hope to have the same team back in the spring to clean and stain my home."
- Mike Farling, PA
"We are pleased beyond expectations! Our crew chief, Ethan, was awesome! Thank You!"
- David Silverman, MD
"Very hard working, and excellent teamwork between crews. Very efficient and friendly."
- Curtis Kline, PA
"We are extremely satisfied with Log Home Maintenance and Restoration. Our home looks fantastic. Your crew Ken and Andy could not have been more accommodating, courteous and professional. They are a credit to your company."
- Joe Cardello, PA
"Tom was wonderful when he came out to quote the house. But for Tom, Mitzi and Angel answering my constant questions, I wouldn't have used anyone else. They were so patient with me and made sure to answer every question. Then they sent the work crew who were wonderful. Every night they cleaned up before they left the site. They worked through thunderstorms. It was crazy. They procured all of the equipment they needed. For example, the job ran over because of weather and they had to return the compressor they rented. They found someone else with a compressor to rent without even asking me for help. Another example, once blasted, it was apparent that an additional deck post was rotted. They looked high and low to find a replacement. They ended up getting what was essentially a stump from a log mill (long story) and made a post. Amazing. Better yet, I had selected a stain based on the small samples. Once they had blasted the back of the house they applied a large test area of stain. The color turned out to be terrible for me. We had enough time to reorder and get the color that fit my house. This happened only because I was leaving town for a few days and they wanted to know if I wanted to see what the color looked like before I left. Thank goodness they suggested previewing the color. I would have had a terrible shock if I came home and the original color was on the logs. Lastly, the crew reminded me to hang plastic on the inside of my house before they started blasting. I cannot begin to image what the mess would have been had I not hung the plastic. One more thing, the crew worked dawn to dusk seven days a week. Again, it was crazy."
- Margie Komes, IL
"The work crew was outstanding! The crew chief, kept me informed throughout the entire process of washing, sanding, and staining. He was very knowledgeable about the process and the product and answered all of my questions. My log home looks great, but even better, I know that it is properly maintained. Thank you so much for job well done."
- Anne Stockbridge, MD
"Ken & Martin did a remarkable job! You should give each a raise. Candidly, I thought the quote for a simple box type house design was rather high. But you guys were responsive to my inquiry and more importantly available to do the work. Unlike your competition who responded if ever, too late. Most importantly your quality of work was impeccable."
- Tim Waechter, PA
"The team who worked on our house consisted Andy Boob, Ken Jones and Kenny. They were extremely courteous and respectful, and went the extra mile to ensure the results were what we wanted. We were extremely happy with the end result, our house and small cabin look amazing and we will definitely call on them in the future with any of our log home needs!! Great group of guys – thank you!!"
- Nicole & Sam Craven, OK
"I wasn't there for the project but was told that you people were very courteous. I was very impressed with the repair and the finish work completely by your employees. We've already recommended you to a few of our neighbors. Thank you for everything."
- John Overend, VA
"We totally appreciate the work. The workers were so professional, helpful and nice that they became like our family. We actually missed them when they left and prayed for their safe return home. We are so pleased with our home and would tell anyone considering having work done that they will not regret using this company, price wise or labor wise. They were courteous and trustworthy, neat and over helpful. I could go on and then on. I would not use anyone else. Thank God I found this company."
- Arsane Gautro, LA
"I wanted to express my appreciation to you for the nice job that was done on my home restoration. Ken and Vincent deserve to be commended for their work and efforts, but more for their care and concern to help me with my "bat" problem. They tried really hard and succeeded! It is great to have nice people to work with but to have people that really care about you is a rarity! I certainly will recommend you to others in need of restoration of their home. It was a pleasure and I thank you."
- Wanda Bailey, VA
"I'd like you to know how please we are with the work and, in particular the professionalism of the crew. These guys were terrific. They arrived well prepared for any circumstance or contingency. They were meticulous in every aspect of the job and their work product met my every expectation. In terms of their demeanor, they were always pleasant and cooperative, gladly addressing any questions or concerns I may have raised. This type of procedure can be a real inconvenience to anyone living in the house being restored. Your crew was sensitive to this fact and always volunteered steps to make my life easier. All-in-all, they may have been the most courteous, conscientious and professional contractors we have ever employed, in any capacity. The bottom line is that we simply could not be happier and would not hesitate for a moment to place future work with Log Building Maintenance."
- Brian Clark, PA
"It's not every day that one receives such excellent overall service that I feel compelled to share! Bravo to you all for exceeding my expectations by a wide margin! Mitzi was patient and a pleasure to work with on my quote and the really crack team of Elvin and Jason did a dynamite job on restoring my home! Finally, Angel helped me pay for it all. You guys and gals are real pros! Please extend my thanks to the management team as well!"
- Will Stahlman, PA
"I am so pleased with the job Phil and Collin did on my log cabin, what nice young men they are. It has been a pleasure working with your company. I have received so many compliments on how my cabin looks. I sure will get the word out what a nice company you are to work with."
- Joanne Wild, PA
"We have had our home finished both inside and out by a variety of your workers and all have been extremely courteous and professional as well as knowledgeable and very hard working. Wendy and I thoroughly enjoyed the time your crew was here and are very thankful for the care and consideration shown by your workers for our log home. We love how it has turned out thanks to the skill and attention to detail exhibited by your fine crew. A great experience all the way around which we would recommend to anyone interested in maintaining or restoring their log home. We look forward to continuing the relationship as additional maintenance is required well into the future."
- Darrell & Wendy Decker, CT
"Tom Kuhns and his crew just finished work on my log home and I am extremely satisfied with the job and their performance. They were all very polite and friendly and did the work very quickly and took pride in the job they were doing, they all stayed busy and focused on the job. They came to the log home subdivision I live in to do work on my neighbors home, several of us in the neighborhood were very impressed with the job they did. We asked Tom for an inspection and estimate. The estimate price was very fair. They are now working on the sixth home in our subdivision. I hope they continue to work in Texas. I will continue to call your company for any maintenance and repair. Thanks for an outstanding job."
- Ulysses Riley, TX
"Dear Sir, I want to take this moment to thank you for the work your crew did cleaning and finishing the log walls of our home. The work was outstanding and your crews were polite and very professional."
- R.L. Clodfelter, TX
"It looks GREAT! Thanks for squeezing in the pool deck at the last minute we really appreciated it. I passed your brochure onto a co-worker in the Wellsboro hills creek area. I told him what a wonderful job you did. We even had a neighbor tell us it looks the best it's looked since the first time we did it and the green trim done properly really accents it. I couldn't be happier with his work he really did a great job I can't say it enough. I'm sure we will contact you again when it's time to do it again. Thanks again for making it a smooth process and making our house look good again."
- Julie Owlett, PA
"I just want to say how great your crew is. Phil is awesome and is so patient with teaching. Vincent seems to have a real touch for this kind of work. They are both excellent ambassadors for your company. They are professional, thorough, personable and incredible workers. Oh my goodness, they are like the "energizer bunny". I know they must be exhausted after 12 hours each and every day. Thanks to both of them and to you all."
- Linda Knutson, IN
"I want to especially say thank you for the great customer service that you and your staff provided. The crew worked steady and were polite and responsive to all our questions and concerns. My friend who was a guest here at our home even commented on their helpfulness and professionalism. Another notable customer service action was when Tom arrived to fix the paint on the flashing without hours of leaving you a message on voice mail. He very carefully looked it all over and fixed items that I had not noticed, when he left everything has thoroughly taken care of."
- Carol Pope & William Bauld, NY
"I would like to send my compliments to the crew that you sent here to do the work. Both Phil and Vincent are good ambassadors for your company, but Phil in particular was exceptional. He took time to explain processes, answer our questions, and made sure we were satisfied with clean-up and other miscellaneous work while they were here and before they left the job site on their final day. Both my wife and I were very comfortable having them here working on our property while we were here and while we were away. Thank you and we will be in touch regarding maintenance of the log exterior."
- Charles W. Andrews, PA
"The restoration of our home was completed yesterday and I would like to thank Elvin for the work he did in refinishing our house. We were completely Satisfied with the results and his thorough knowledge in performing this effort. We would highly recommend your company to our neighbors because of him."
- John Furdak, PA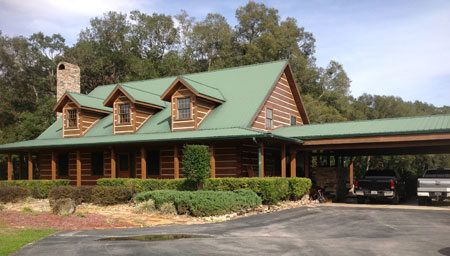 "Many thanks to Tom and his team of professionals for making maintenance on our log home a pleasant experience."
- Butch Ritter, FL
"We made an excellent decision when we chose your company to restore our log home. I am very pleased with the result and felt I should write you about the work your employees, Phil and Mike, did. They are two of the most committed, hardworking young men I have encountered in a long time. They showed up early every day and worked from dawn to dark. And each day when they left, everything was cleaned up and put away. Not only did they show up early and work hard, but they were very courteous and professional, answering any questions I had. They are a definite asset to your company and I can't speak highly enough of both of them. Should they ever need a recommendation in the future, I would be happy to provide the same. You can count on our business in the future."
- Mary I. Phillips, PA
"It was time to re-stain our log home prompting us to request bids and evaluate offerings of local painters and businesses advertising log home services. Mr. Dave Hoffman from Log Building Maintenance & Restoration came to our site to develop an estimate, he took time to fully explain service offerings and discussed pros' and cons' of various products for our consideration. After careful research we opted to select Log Building Maintenance & Restoration. The crew was a no-nonsense professional team that went straight to work inspecting and sealing areas where our home had air infiltration and excessive checking or cracking of the logs. Our home was power washed with an environmental friendly cleaner restoring the logs almost to their original condition. Great attention to detail was used when applying the products of our choosing and the crew was friendly and responsive to our questions or requests as they worked. Our project was completed in a timely manner and the cost came in on budget. There were no issues at all. We are very satisfied with the work and interaction with Log Building Maintenance & Restoration. The appearance of our home is outstanding, it looks newly constructed or like a show model. We very much appreciate the efforts made by Dave's staff and crew to ensure our satisfaction when on-site and can recommend their services without hesitation."
- David L. & La Mese M.P Johnson, PA
"I trust that this note will find you in the best of health. I am writing to you this morning to thank you and your crew on building our log package home in Linden, Virginia this past summer.

First, I want to thank the crew for erecting the Kuhns Bros. log package that I designed with the staff engineers. The center vaulted great room offered a challenge that your crew assembled with care and professionalism. Next, I want thank your director for coming down on several occasions and helping them with the final details and special feature touches. I am certain that your directives and years of experience helped us solve some of the more complicated issues. I am glad that I chose your team at LBMR to assemble this complicated home. I hope that you can come back down and see the final product. "
- Sina Sabet, VA
"Your company recently completed some restoration work on the outside of our log home center, and I just wanted to drop you a quick note to say thanks. It looks great! We are very pleased with the appearance of the new Sashco brand stain product that you had recommended. It really does have a much nicer appearance than our previous finish, and it seems to be holding up better as well. We have received many positive comments from our visitors!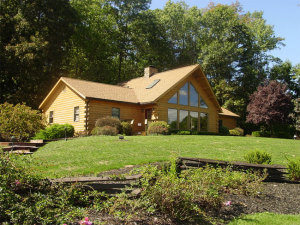 Your crew did an expert job at removing the old finish and preparing the logs for the new. Everything was done in a neat and orderly fashion with our shrubs and plantings safely covered at all times. We had all anticipated a big clean up job afterward, but when your guys left they took the mess with them. Everyone was professional in their manners and appearance, and it was a pleasure having them here to work on our office. It was a pleasure doing business with your and your company, and I would recommend your restoration services to anyone. I'll plan to call you in the future when it's time to think about putting the next coat of preservative on our building!"
- Richard "Scoop" Mason, PA